Private Tours of Buenos Aires ("Quintessential BA" - In just 3 hrs, experience all you shouldn't miss here)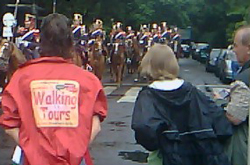 Our guides are either locals, born in English speaking families or expats living long term in Buenos Aires

A well balanced combo of our city's most distinctive features and landmarks.



This is by far the best way to experience Buenos Aires. You will have the undivided attention of our best bilingual guides: They know the city in-and-out with its stories, history, legends, habits, quirks, curiosities, its neighbourhoods, its people, restaurants, circuits... the whole nine yards!



Private walks are usually best for small parties, but we can also handle Private City Walks for very large groups (forming small groups, each with a guide).



The cost for a Private Walk with one of our top guides (government licensed, fully bilingual, with outstandingly good English, fun, engaging and extremely knowledgeable) starts at US$150 (3 hr walk, 1-3 people) plus US$50 for each additional person (4 people $200, 5 people $250--but each 6th person is free of charge: an 18% discount). If you are travelling on a budget, we can supply you with other (more junior, but still excellent) guides whose rates are lower (contact us). We'll stop for coffee, snacks or refreshments along the walk, at emblematic cafes of cultural or historical value. Snacks, drinks, hotel pickup, transportation, foot massage, mid-life-counseling, good sense of humour and gratuities are not included (actually massage, counseling and good sense of humour are not even available!).


Thus, if you enjoy:



Having a dedicated, exclusive guide


Walking at your own pace


Longer, more detailed walks


More time and freedom to ask (and have all your questions answered)

...then this option is for you: the savvy traveller who wants stronger, close-up, deeper travel experiences.


Unless otherwise specified, we will meet 10am at the corner of Florida & Paraguay Sts., outside the 'Florida Garden' cafe (map). Look for our guides, wearing 'BA-Walking-Tours' jackets, shirts or baseball caps


Tours can be tailored to YOUR OWN choice of activities (click button below to see example), and though we specialize in Tours in English, we also have guides who are native speakers of Spanish, French, Portuguese and Russian for medium to large tour groups booked in advance, .
OPTION 1:
"Historical and Picturesque" (Downtown - Plaza de Mayo - San Telmo) Buenos Aires Walk:
Downtown + Monserrat: oldest neighbourhood + Cabildo (old City Hall) + BA's Cathedral and San Martin's Mausoleum (here we explain how Argentina became a nation) + National Bank + Government House (its history and architecture explained) + Monument to Manuel Belgrano (where the gallows used to be) + Ministry Buildings (shrapnel still attests to recent coups -explained) + The Obelisk (and the Walk of the Mothers of the dissapeared) + Bolivar St.: Manzana de las Luces ("Enlightment Square" -first center of wisdom and foundational site of our schooling system) + Oldest Shop, Oldest Church and Oldest house still preserved in the city + Defensa St. and Saint Domingo Convent (here we explain the early British presence in 1806 and 1807) + Viceroy Linier's House + Chile St (old city limit) & Minimal House + Massive Immigration and changes in the Architecture of BA + Entering picturesque San Telmo neighbourhood + Evita & the School of Engineering + Carlos Calvo Market + Plaza Dorrego Park + Belen Church & Martina Cespedes' cute story + Ezeiza's Little Convent ...and much more
OPTION 2:
"Retiro - Recoleta - Palermo" walk:
Elegant Plaza San Martin (initial bastion, bullfight ring and slave market), Paz Palace (amazing belle-epoque mansion in BA) + San Martin's Monument (here we explain how Argenina was born) + Kavanagh Building (architecture in BA explained) + Santísimo Sacramento Church (unusual and amazing church, explained) + British Clock Tower (here we explain past & present unsuspected presence of England in Argentina) + Railroad Terminal Stations + Barrio Norte Neighbourhood (here we explain the strong influence of the French and Italian in Argentina) + Mihanovich & Strugamou Buildings + Arroyo Street and its Art Galleries + Elegant Alvear St. & Palaces (here we explain the impact of catholicism, judaism and immigration in Argentina ) + Nuestra Senora del Pilar Church + Recoleta Neighbourhood. + The amazing Recoleta Cemetery (explained with monuments and stories, including all about Evita Peron --she is buried here) + BA Exhibition Center + Palais de Glace (we explain the coming of age of Tango) + BA Design Center + Floralis Monument + National Gallery of Art + Peynot's Grand Monument (France's present to Argentina for its centennial celebration).
Click this button to book this tour

www.BA-Walking-Tours.com
Tel. +54 (911) 5773-1001 (if calling from overseas)
Tel. (15) 5773-1001 (if calling locally from within Buenos Aires)
Buenos Aires Private Walking Tours and Shore Excursions
(chart of our other Buenos Aires Walking Tours)
Buenos Aires Tours

Click here for Guided Buenos Aires Walks which you can just join in, as these walks are NOT private, or reserved.

Buenos Aires Private Tours

This Page.

Buenos Aires Tour Guides

Read all about our guides: who they are, how they are selected, what is their background.

Buenos Aires Sightseeing

Click here to find general information on things to see and do.