Historical & Picturesque BA Plaza De Mayo - San Telmo - La Boca (optional)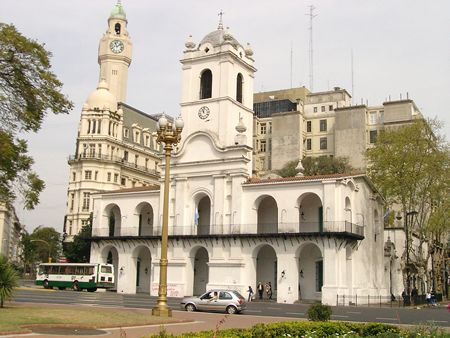 The old 'Cabildo': the old Capitol (from 'Capitulum' or 'head' of the city --in Latin)

Description: Scroll (way) down for extensive information!



When: 3:30 pm daily Oct-May, rain or shine --Booking & calling ahead is advisable as walks may fill-up or be cancelled



Duration: approx. 3 hours (almost 4 hrs w/ 'La Boca' option)



Price: US$50 (US$75 p/p w/ 'La Boca' option)



Discounts: Each 6 people, one is free of charge (18% discount)



Meet: Corner of Florida & Paraguay Sts., outside the 'Florida Garden' cafe. Look for our guides, wearing 'BA-Walking-Tours' jackets, shirts or baseball caps. Get printable, bilingual ('help-me-get-there') directions here, or see map here.



Note: After this ultra-enjoyable walk you will understand Buenos Aires (and Argentina!!) much better. It includes over 25 main city landmarks (different from our other walks). This is not a strenuous walk. At some point in we'll stop for coffee or refreshments at some emblematic cafe of cultural or historical value. Snacks, drinks, hotel pickup, transportation, foot massage, mid-life-counseling, good sense of humour and gratuities are not included (actually massage, counseling and good sense of humour are not even available!).



Some key sights:
Monserrat: The earliest neighbourhood
Cabildo (old City Hall)
BA's Cathedral and San Martin's Mausoleum (here we explain how Argenina became a nation)
National Bank
Government House (its history and architecture explained)
Monument to Manuel Belgrano (where the gallows used to be)
Ministry Buildings (shrapnel still attests to recent coups -explained)
The Piramid (and the Path of Mothers of the dissapeared)
Bolivar St.: Manzana de las Luces ('Enlightment Square' -first center of wisdom and foundational university site)
Oldest Shop, Oldest Church and Oldest house still preserved in the city
Defensa St.
St. Domingo Convent (here we explain the early British presence in 1806 and 1807)
Viceroy Liniers' House (architecture in colonial times)

Chile St (old city limit) & Minimal House
Entering picturesque San Telmo neighbourhood (Massive Immigration and changes in the Architecture of BA)
Evita & the School of Engineering
Carlos Calvo Market
Plaza Dorrego Park
Belen Church & Martina Cespedes Story
Ezeiza's Little Convent (a real 'conventillo' visit)
Optionals:
Piccardo, Modern Art Museum & Onassis
Cacciattore's Urban Highway
Lezama Park
National History Museum
Pedro de Mendoza's Statue
Russian Church
James Brittain Invention to La Boca
La Boca & Caminito St. story ...and much more!