BA-in-a-Day Walk (all what's unmissable plus much "off-the-beaten-track")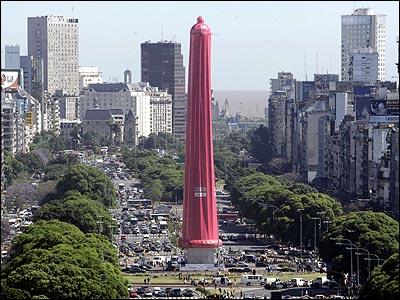 The Obelisk (true picture: AIDS Awareness Week 2005)

Description: Scroll (way) down for extensive information about Day Tours of Buenos Aires!



When: 10 am, daily 365 days/year, rain or shine (this tour is only available by booking ahead through our 'Booking' menu entry above)



Duration: 6 hours (10am to 1pm, then a light-lunch intermission with your choice of lunch --cost not included-- at some typical 'Argentine food' place and then we continue walking from 2pm to 5pm approx.)



Price: US$125 p/p (Minimum 2 people, or add 20%)



Discounts: Each 6 people, one is free of charge (18% discount)



Meet: Unless otherwise specified, the Day Tours of Buenos Aires departs usually at 10am at the corner of Florida & Paraguay Sts., outside the 'Florida Garden' cafe. Look for our guides, wearing 'BA-Walking-Tours' jackets, shirts or baseball caps. Get printable, bilingual ('good-for-taxi' or asking) directions here, or see map here.



Note: This is a fun & comprehensive walking tour in English. It was specifically designed by our guides for savvy travelers with little time or tight agendas. It includes over 75 main city landmarks and lots of stories and explanations as well as off-the-beaten-track portions of the Historical Downtown, Recoleta, Palermo, Barrio Norte and La Boca neighbourhoods (La Boca is now only offered as optional depending on your guide's availability and not included in the BA-in-a-Day Walk).

After this enjoyable Day Tour of Buenos Aires walk you will understand Buenos Aires (and Argentina!!) much better. It includes over 75 main city landmarks, and though it is not a strenuous walk, it is a long one: to see all these landmarks we do need to keep a quick pace--or cover a bit less: you decide. We'll stop for coffee, snacks or refreshments along the walk, at emblematic cafes of cultural or historical value. Snacks, drinks, hotel pickup, transportation, foot massage, mid-life-counseling, good sense of humour and gratuities are not included (actually massage, counseling and good sense of humour are not even available!).



Some key sights:
The interwoven history of the main sites & landmarks in Buenos Aires:
Florida & Plaza San Martin park area, from where we'll cover all rhe most flamboyant areas of BA--the areas that gave us the denomination of 'The Paris of the South'. Magnificent buildings, palaces and stories. Here we explain how our city became so European and the influence of the British, French, Italian and Spanish immigration.
Historical downrown and Plaza de Mayo (Cathedral + Cabildo + Casa Rosada + Puerto Madero + Mothers of the Dissapeared, etc.).

San Telmo (the picturesque, earliest neighbourhood in BA): Slave Market + Defensa Street + Plaza Dorrego Antiques market + Colonial churches & houses).
Famous Recoleta & Palermo neighbourhoods, where we visit and explain the world famous Recoleta Cemetery--including all about famous Evita Peron
Time permitting, we'll visit the famously colorful and picturesque port of 'La Boca', birthplace of Tango (where we might see it danced on the streets! ? Note that La Boca is now only offered as optional depending on your guide's availability and not included in the BA-in-a-Day Walk).
...and much, much more!!

Note: If you want to wrap-up your experience of all that is relevant to BA in just one day, you can also book our 'Tango Night Out' as well for that night, and relax enjoying a superb, typical Tango dinner-show.
Buenos Aires Day Tours, Private Walking Tours and Shore Excursions
(chart of our other Buenos Aires Walking Tours)
Buenos Aires Tours

Click here for Guided Buenos Aires Walks which you can just join in, as these walks are NOT private, or reserved.

Buenos Aires Private Tours

This Page.

Buenos Aires Tour Guides

Read all about our guides: who they are, how they are selected, what is their background.

Buenos Aires Sightseeing

Click here to find general information on things to see and do.